1948 Bowman Baseball
# of cards: 48
Dimensions: 2 1/16 x 2 1/2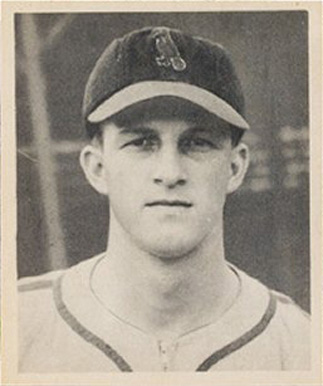 Collector Score: **** (4 Stars)
Even though this is a small set, it was the first national baseball card set issued since 1941 and includes rookie cards of Stan Musial, Yogi Berra, Phil Rizzuto, Warren Spahn, Ralph Kiner, Red Schoendienst and Bobby Thomson. Unfortunately the design is plain, the cards are small, and the photos are black and white. These factors make this set less collectible than it probably should be.  Nevertheless, this is an historic set, and will always be of great value and interest in the hobby.
Prices reflect retail value for cards in Near Mint condition.
COMPLETE SET (48)  $8,000.00
1948 Bowman #1 Bob Elliott    $350.00
1948 Bowman #2 Ewell Blackwell    $175.00
1948 Bowman #3 Ralph Kiner    $700.00
1948 Bowman #4 Johnny Mize    $400.00
1948 Bowman #5 Bob Feller    $800.00
1948 Bowman #6 Yogi Berra    $2,500.00
1948 Bowman #7 Pete Reiser     $350.00
1948 Bowman #8 Phil Rizzuto     $1,200.00
1948 Bowman #9 Walker Cooper    $75.00
1948 Bowman #10 Buddy Rosar    $75.00
1948 Bowman #11 Johnny Lindell    $100.00
1948 Bowman #12 Johnny Sain    $250.00
1948 Bowman #13 Willard Marshall     $100.00
1948 Bowman #14 Allie Reynolds    $200.00
1948 Bowman #15 Eddie Joost   $60.00
1948 Bowman #16 Jack Lohrke     $100.00
1948 Bowman #17 Enos Slaughter    $300.00
1948 Bowman #18 Warren Spahn    $900.00
1948 Bowman #19 Tommy Henrich   $175.00
1948 Bowman #20 Buddy Kerr     $100.00
1948 Bowman #21 Ferris Fain    $125.00
1948 Bowman #22 Floyd Bevens     $100.00
1948 Bowman #23 Larry Jansen    $75.00
1948 Bowman #24 Dutch Leonard    $100.00
1948 Bowman #25 Barney McCosky   $60.00
1948 Bowman #26 Frank Shea     $150.00
1948 Bowman #27 Sid Gordon    $90.00
1948 Bowman #28 Emil Verban $90.00
1948 Bowman #29 Joe Page     $250.00
1948 Bowman #30 Whitey Lockman     $150.00
1948 Bowman #31 Bill McCahan    $60.00
1948 Bowman #32 Bill Rigney    $75.00
1948 Bowman #33 Bill Johnson    $75.00
1948 Bowman #34 Sheldon Jones     $100.00
1948 Bowman #35 Snuffy Stirnweiss    $125.00
1948 Bowman #36 Stan Musial    $2,500.00
1948 Bowman #37 Clint Hartung    $90.00
1948 Bowman #38 Red Schoendienst    $600.00
1948 Bowman #39 Augie Galan    $90.00
1948 Bowman #40 Marty Marion    $250.00
1948 Bowman #41 Rex Barney    $200.00
1948 Bowman #42 Ray Poat    $90.00
1948 Bowman #43 Bruce Edwards    $100.00
1948 Bowman #44 Johnny Wyrostek    $90.00
1948 Bowman #45 Hank Sauer    $175.00
1948 Bowman #46 Herman Wehmeier    $90.00
1948 Bowman #47 Bobby Thomson    $300.00
1948 Bowman #48 Dave Koslo    $250.00