1951 Bowman Baseball
# of cards: 324
Dimensions: 2 1/16 x 3 1/8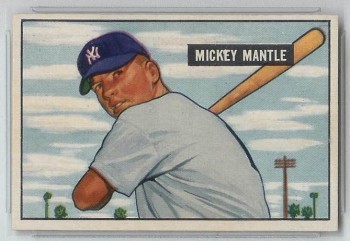 Collector Score **** (5 Stars)
In '51, the Bowman cards grew slightly larger. Many of the fronts are simply enlargements of the 1950 set, but in spite of this the 1951 Bowmans are one of the most valuable and collectible sets of all. This is not because of great design, but because of the great ballplayers in the set. Rookie Cards of Mantle, Mays, Maglie, Garagiola, Carl Erskine, Jimmy Piersall, Monte Irvin, Nellie Fox and Whitey Ford stand out, along with valuable Ted Williams and Yogi Berra cards and numerous Hall Of Famers.
Prices reflect value in Near Mint condition
COMPLETE SET (240)  $45,000.00
1951 Bowman #1 Whitey Ford Rookie card 7,500.00
1951 Bowman #2 Yogi Berra 1,200.00
1951 Bowman #3 Robin Roberts 300.00
1951 Bowman #4 Del Ennis 90.00
1951 Bowman #5 Dale Mitchell 90.00
1951 Bowman #6 Don Newcombe 200.00
1951 Bowman #7 Gil Hodges 400.00
1951 Bowman #8 Paul Lehner 75.00
1951 Bowman #9 Sam Chapman 75.00
1951 Bowman #10 Red Schoendienst 200.00
1951 Bowman #11 George Munger 75.00
1951 Bowman #12 Hank Majeski 75.00
1951 Bowman #13 Eddie Stanky 90.00
1951 Bowman #14 Alvin Dark 100.00
1951 Bowman #15 Johnny Pesky 90.00
1951 Bowman #16 Maurice McDermott 75.00
1951 Bowman #17 Pete Castiglione 75.00
1951 Bowman #18 Gil Coan 75.00
1951 Bowman #19 Sid Gordon 75.00
1951 Bowman #20 Del Crandall 90.00
1951 Bowman #21 Snuffy Stirnweiss 75.00
1951 Bowman #22 Hank Sauer 90.00
1951 Bowman #23 Hoot Evers 75.00
1951 Bowman #24 Ewell Blackwell 100.00
1951 Bowman #25 Vic Raschi 150.00
1951 Bowman #26 Phil Rizzuto 250.00
1951 Bowman #27 Jim Konstanty 90.00
1951 Bowman #28 Eddie Waitkus 75.00
1951 Bowman #29 Allie Clark 75.00
1951 Bowman #30 Bob Feller 400.00
1951 Bowman #31 Roy Campanella 900.00
1951 Bowman #32 Duke Snider 900.00
1951 Bowman #33 Bob Hooper Rookie card 75.00
1951 Bowman #34 Marty Marion Mgr 100.00
1951 Bowman #35 Al Zarilla 75.00
1951 Bowman #36 Joe Dobson 75.00
1951 Bowman #37 Whitey Lockman 100.00
1951 Bowman #38 Al Evans 75.00
1951 Bowman #39 Ray Scarborough 75.00
1951 Bowman #40 Gus Bell Rookie card 150.00
1951 Bowman #41 Eddie Yost 90.00
1951 Bowman #42 Vern Bickford 75.00
1951 Bowman #43 Billy DeMars 75.00
1951 Bowman #44 Roy Smalley 75.00
1951 Bowman #45 Art Houtteman 75.00
1951 Bowman #46 George Kell 200.00
1951 Bowman #47 Grady Hatton 75.00
1951 Bowman #48 Ken Raffensberger 75.00
1951 Bowman #49 Jerry Coleman 75.00
1951 Bowman #50 Johnny Mize 200.00
1951 Bowman #51 Andy Seminick 75.00
1951 Bowman #52 Dick Sisler 100.00
1951 Bowman #53 Bob Lemon 200.00
1951 Bowman #54 Ray Boone Rookie card 100.00
1951 Bowman #55 Gene Hermanski 75.00
1951 Bowman #56 Ralph Branca 150.00
1951 Bowman #57 Alex Kellner 75.00
1951 Bowman #58 Enos Slaughter 200.00
1951 Bowman #59 Randy Gumpert 75.00
1951 Bowman #60 Chico Carrasquel Rookie card 150.00
1951 Bowman #61 Jim Hearn 75.00
1951 Bowman #62 Lou Boudreau Mgr 150.00
1951 Bowman #63 Bob Dillinger 75.00
1951 Bowman #64 Bill Werle 75.00
1951 Bowman #65 Mickey Vernon 100.00
1951 Bowman #66 Bob Elliott 75.00
1951 Bowman #67 Roy Sievers 90.00
1951 Bowman #68 Dick Kokos 75.00
1951 Bowman #69 Johnny Schmitz 75.00
1951 Bowman #70 Ron Northey 75.00
1951 Bowman #71 Jerry Priddy 75.00
1951 Bowman #72 Lloyd Merriman 75.00
1951 Bowman #73 Tommy Byrne Rookie card 75.00
1951 Bowman #74 Billy Johnson 75.00
1951 Bowman #75 Russ Meyer Rookie card 90.00
1951 Bowman #76 Stan Lopata 75.00
1951 Bowman #77 Mike Goliat 75.00
1951 Bowman #78 Early Wynn 200.00
1951 Bowman #79 Jim Hegan 90.00
1951 Bowman #80 Pee Wee Reese 600.00
1951 Bowman #81 Carl Furillo 200.00
1951 Bowman #82 Joe Tipton 75.00
1951 Bowman #83 Carl Scheib 75.00
1951 Bowman #84 Barney McCosky 75.00
1951 Bowman #85 Eddie Kazak 75.00
1951 Bowman #86 Harry Brecheen 75.00
1951 Bowman #87 Floyd Baker 75.00
1951 Bowman #88 Eddie Robinson 75.00
1951 Bowman #89 Hank Thompson 90.00
1951 Bowman #90 Dave Koslo 75.00
1951 Bowman #91 Clyde Vollmer 75.00
1951 Bowman #92 Vern Stephens 90.00
1951 Bowman #93 Danny O'Connell Rookie card 75.00
1951 Bowman #94 Clyde McCullough 75.00
1951 Bowman #95 Sherry Robertson 75.00
1951 Bowman #96 Sandy Consuegra Rookie card 75.00
1951 Bowman #97 Bob Kuzava 75.00
1951 Bowman #98 Willard Marshall 75.00
1951 Bowman #99 Earl Torgeson 75.00
1951 Bowman #100 Sherm Lollar 90.00
1951 Bowman #101 Owen Friend 75.00
1951 Bowman #102 Dutch Leonard 75.00
1951 Bowman #103 Andy Pafko 100.00
1951 Bowman #104 Virgil Trucks 90.00
1951 Bowman #105 Don Kolloway 75.00
1951 Bowman #106 Pat Mullin 75.00
1951 Bowman #107 Johnny Wyrostek 75.00
1951 Bowman #108 Virgil Stallcup 75.00
1951 Bowman #109 Allie Reynolds 150.00
1951 Bowman #110 Bobby Brown 100.00
1951 Bowman #111 Curt Simmons 90.00
1951 Bowman #112 Willie Jones 75.00
1951 Bowman #113 Bill Nicholson 75.00
1951 Bowman #114 Sam Zoldak 75.00
1951 Bowman #115 Steve Gromek 75.00
1951 Bowman #116 Bruce Edwards 75.00
1951 Bowman #117 Eddie Miksis Rookie card 75.00
1951 Bowman #118 Preacher Roe 150.00
1951 Bowman #119 Eddie Joost 75.00
1951 Bowman #120 Joe Coleman 90.00
1951 Bowman #121 Gerry Staley Rookie card 75.00
1951 Bowman #122 Joe Garagiola Rookie card 300.00
1951 Bowman #123 Howie Judson 75.00
1951 Bowman #124 Gus Niarhos 75.00
1951 Bowman #125 Bill Rigney 90.00
1951 Bowman #126 Bobby Thomson 150.00
1951 Bowman #127 Sal Maglie Rookie card 200.00
1951 Bowman #128 Ellis Kinder 75.00
1951 Bowman #129 Matt Batts 75.00
1951 Bowman #130 Tom Saffell Rookie card 75.00
1951 Bowman #131 Cliff Chambers 75.00
1951 Bowman #132 Cass Michaels 75.00
1951 Bowman #133 Sam Dente 75.00
1951 Bowman #134 Warren Spahn 400.00
1951 Bowman #135 Walker Cooper 75.00
1951 Bowman #136 Ray Coleman 75.00
1951 Bowman #137 Dick Starr 75.00
1951 Bowman #138 Phil Cavarretta 90.00
1951 Bowman #139 Doyle Lade 75.00
1951 Bowman #140 Eddie Lake 75.00
1951 Bowman #141 Fred Hutchinson 90.00
1951 Bowman #142 Aaron Robinson 75.00
1951 Bowman #143 Ted Kluszewski 200.00
1951 Bowman #144 Herman Wehmeier 75.00
1951 Bowman #145 Fred Sanford 75.00
1951 Bowman #146 Johnny Hopp 75.00
1951 Bowman #147 Ken Heintzelman 75.00
1951 Bowman #148 Granny Hamner 75.00
1951 Bowman #149 Bubba Church Rookie card 75.00
1951 Bowman #150 Mike Garcia 75.00
1951 Bowman #151 Larry Doby 200.00
1951 Bowman #152 Cal Abrams Rookie card 75.00
1951 Bowman #153 Rex Barney 75.00
1951 Bowman #154 Pete Suder 75.00
1951 Bowman #155 Lou Brissie 90.00
1951 Bowman #156 Del Rice 75.00
1951 Bowman #157 Al Brazle 75.00
1951 Bowman #158 Chuck Diering 75.00
1951 Bowman #159 Eddie Stewart 75.00
1951 Bowman #160 Phil Masi 75.00
1951 Bowman #161 Wes Westrum Rookie card 75.00
1951 Bowman #162 Larry Jansen 75.00
1951 Bowman #163 Monte Kennedy 75.00
1951 Bowman #164 Bill Wight 75.00
1951 Bowman #165 Ted Williams 2,500.00
1951 Bowman #166 Stan Rojek 75.00
1951 Bowman #167 Murry Dickson 75.00
1951 Bowman #168 Sam Mele 75.00
1951 Bowman #169 Sid Hudson 75.00
1951 Bowman #170 Sibby Sisti 75.00
1951 Bowman #171 Buddy Kerr 75.00
1951 Bowman #172 Ned Garver 75.00
1951 Bowman #173 Hank Arft 75.00
1951 Bowman #174 Mickey Owen 75.00
1951 Bowman #175 Wayne Terwilliger 75.00
1951 Bowman #176 Vic Wertz 100.00
1951 Bowman #177 Charlie Keller 75.00
1951 Bowman #178 Ted Gray 75.00
1951 Bowman #179 Danny Litwhiler 75.00
1951 Bowman #180 Howie Fox 75.00
1951 Bowman #181 Casey Stengel Mgr 200.00
1951 Bowman #182 Tom Ferrick Rookie card 75.00
1951 Bowman #183 Hank Bauer 150.00
1951 Bowman #184 Eddie Sawyer Mgr 100.00
1951 Bowman #185 Jimmy Bloodworth 75.00
1951 Bowman #186 Richie Ashburn 300.00
1951 Bowman #187 Al Rosen 150.00
1951 Bowman #188 Bobby Avila Rookie card 90.00
1951 Bowman #189 Erv Palica Rookie card 75.00
1951 Bowman #190 Joe Hatten 75.00
1951 Bowman #191 Billy Hitchcock Rookie card 75.00
1951 Bowman #192 Hank Wyse Rookie card 75.00
1951 Bowman #193 Ted Wilks 75.00
1951 Bowman #194 Peanuts Lowrey 75.00
1951 Bowman #195 Paul Richards Mgr/ (Caricature) 90.00
1951 Bowman #196 Billy Pierce Rookie card 150.00
1951 Bowman #197 Bob Cain 75.00
1951 Bowman #198 Monte Irvin Rookie card 350.00
1951 Bowman #199 Sheldon Jones 75.00
1951 Bowman #200 Jack Kramer 75.00
1951 Bowman #201 Steve O'Neill Mgr Rookie card 75.00
1951 Bowman #202 Mike Guerra 75.00
1951 Bowman #203 Vern Law Rookie card 150.00
1951 Bowman #204 Vic Lombardi Rookie card 75.00
1951 Bowman #205 Mickey Grasso Rookie card 75.00
1951 Bowman #206 Conrado Marrero Rookie card 75.00
1951 Bowman #207 Billy Southworth Mgr Rookie card 75.00
1951 Bowman #208 Blix Donnelly 75.00
1951 Bowman #209 Ken Wood 75.00
1951 Bowman #210 Les Moss 75.00
1951 Bowman #211 Hal Jeffcoat Rookie card 75.00
1951 Bowman #212 Bob Rush 75.00
1951 Bowman #213 Neil Berry 75.00
1951 Bowman #214 Bob Swift 75.00
1951 Bowman #215 Ken Peterson 75.00
1951 Bowman #216 Connie Ryan Rookie card 75.00
1951 Bowman #217 Joe Page 75.00
1951 Bowman #218 Ed Lopat 200.00
1951 Bowman #219 Gene Woodling Rookie card 150.00
1951 Bowman #220 Bob Miller 75.00
1951 Bowman #221 Dick Whitman Rookie card 75.00
1951 Bowman #222 Thurman Tucker Rookie card 75.00
1951 Bowman #223 Johnny VanderMeer 150.00
1951 Bowman #224 Billy Cox 75.00
1951 Bowman #225 Dan Bankhead Rookie card 100.00
1951 Bowman #226 Jimmie Dykes Mgr 75.00
1951 Bowman #227 Bobby Shantz 90.00
1951 Bowman #228 Cloyd Boyer Rookie card 90.00
1951 Bowman #229 Bill Howerton 75.00
1951 Bowman #230 Max Lanier 75.00
1951 Bowman #231 Luis Aloma Rookie card 75.00
1951 Bowman #232 Nellie Fox Rookie card 750.00
1951 Bowman #233 Leo Durocher Mgr 200.00
1951 Bowman #234 Clint Hartung 75.00
1951 Bowman #235 Jack Lohrke 75.00
1951 Bowman #236 Buddy Rosar 75.00
1951 Bowman #237 Billy Goodman 90.00
1951 Bowman #238 Pete Reiser 100.00
1951 Bowman #239 Bill MacDonald Rookie card 75.00
1951 Bowman #240 Joe Haynes 75.00
1951 Bowman #241 Irv Noren 75.00
1951 Bowman #242 Sam Jethroe 90.00
1951 Bowman #243 Johnny Antonelli 75.00
1951 Bowman #244 Cliff Fannin 75.00
1951 Bowman #245 John Berardino Rookie card 150.00
1951 Bowman #246 Bill Serena 75.00
1951 Bowman #247 Bob Ramazzotti Rookie card 75.00
1951 Bowman #248 Johnny Klippstein Rookie card 75.00
1951 Bowman #249 Johnny Groth 75.00
1951 Bowman #250 Hank Borowy 75.00
1951 Bowman #251 Willard Ramsdell Rookie card 75.00
1951 Bowman #252 Dixie Howell Rookie card 75.00
1951 Bowman #253 Mickey Mantle Rookie card 40,000.00
1951 Bowman #254 Jackie Jensen Rookie card 300.00
1951 Bowman #255 Milo Candini Rookie card 150.00
1951 Bowman #256 Ken Silvestri Rookie card 150.00
1951 Bowman #257 Birdie Tebbetts Rookie card 200.00
1951 Bowman #258 Luke Easter Rookie card 150.00
1951 Bowman #259 Chuck Dressen Mgr 150.00
1951 Bowman #260 Carl Erskine Rookie card 300.00
1951 Bowman #261 Wally Moses 150.00
1951 Bowman #262 Gus Zernial 150.00
1951 Bowman #263 Howie Pollet 200.00
1951 Bowman #264 Don Richmond Rookie card 150.00
1951 Bowman #265 Steve Bilko Rookie card 150.00
1951 Bowman #266 Harry Dorish Rookie card 150.00
1951 Bowman #267 Ken Holcombe Rookie card 150.00
1951 Bowman #268 Don Mueller 200.00
1951 Bowman #269 Ray Noble Rookie card 150.00
1951 Bowman #270 Willard Nixon Rookie card 150.00
1951 Bowman #271 Tommy Wright Rookie card 150.00
1951 Bowman #272 Billy Meyer Mgr Rookie card 150.00
1951 Bowman #273 Danny Murtaugh 150.00
1951 Bowman #274 George Metkovich Rookie card 150.00
1951 Bowman #275 Bucky Harris Mgr 200.00
1951 Bowman #276 Frank Quinn Rookie card 150.00
1951 Bowman #277 Roy Hartsfield Rookie card 150.00
1951 Bowman #278 Norman Roy Rookie card 150.00
1951 Bowman #279 Jim Delsing Rookie card 150.00
1951 Bowman #280 Howie Pollet 150.00
1951 Bowman #281 Al Widmar Rookie card 150.00
1951 Bowman #282 Frankie Frisch Mgr 200.00
1951 Bowman #283 Walt Dubiel Rookie card 150.00
1951 Bowman #284 Gene Bearden 150.00
1951 Bowman #285 Johnny Lipon Rookie card 150.00
1951 Bowman #286 Bob Usher Rookie card 150.00
1951 Bowman #287 Jim Blackburn 150.00
1951 Bowman #288 Bobby Adams 150.00
1951 Bowman #289 Cliff Mapes 150.00
1951 Bowman #290 Bill Dickey CO 600.00
1951 Bowman #291 Tommy Henrich CO 200.00
1951 Bowman #292 Eddie Pellagrini 150.00
1951 Bowman #293 Ken Johnson Rookie card 150.00
1951 Bowman #294 Jocko Thompson 150.00
1951 Bowman #295 Al Lopez Mgr Rookie card 400.00
1951 Bowman #296 Bob Kennedy Rookie card 150.00
1951 Bowman #297 Dave Philley 150.00
1951 Bowman #298 Joe Astroth Rookie card 150.00
1951 Bowman #299 Clyde King Rookie card 150.00
1951 Bowman #300 Hal Rice Rookie card 150.00
1951 Bowman #301 Tommy Glaviano Rookie card 150.00
1951 Bowman #302 Jim Busby Rookie card 150.00
1951 Bowman #303 Marv Rotblatt Rookie card 150.00
1951 Bowman #304 Al Gettell Rookie card 150.00
1951 Bowman #305 Willie Mays Rookie card 10,000.00
1951 Bowman #306 Jimmy Piersall Rookie card 300.00
1951 Bowman #307 Walt Masterson 150.00
1951 Bowman #308 Ted Beard Rookie card 150.00
1951 Bowman #309 Mel Queen Rookie card 150.00
1951 Bowman #310 Erv Dusak Rookie card 150.00
1951 Bowman #311 Mickey Harris 150.00
1951 Bowman #312 Gene Mauch Rookie card 150.00
1951 Bowman #313 Ray Mueller Rookie card 150.00
1951 Bowman #314 Johnny Sain 200.00
1951 Bowman #315 Zack Taylor Mgr 150.00
1951 Bowman #316 Duane Pillette Rookie card 150.00
1951 Bowman #317 Smoky Burgess Rookie card 200.00
1951 Bowman #318 Warren Hacker Rookie card 150.00
1951 Bowman #319 Red Rolfe Mgr 150.00
1951 Bowman #320 Hal White Rookie card 150.00
1951 Bowman #321 Earl Johnson 150.00
1951 Bowman #322 Luke Sewell Mgr 150.00
1951 Bowman #323 Joe Adcock Rookie card 200.00
1951 Bowman #324 Johnny Pramesa Rookie card 300.00