1980-83 Cramer Baseball Legends
Collector score: **** (4  Stars)
# of cards 125 – 120 cards, 4 cutout cards from boxes, and 1 blank-back Babe Ruth cutout (no number)
Dimensions: 2 1/2 x 3 1/2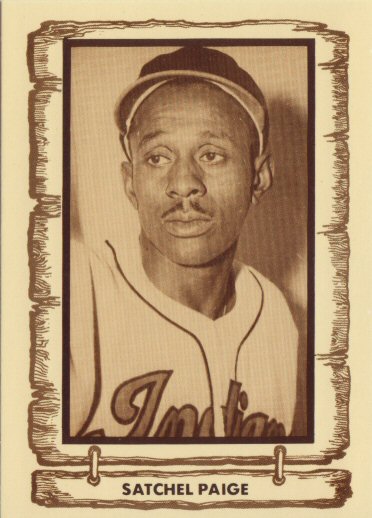 Cramer Sports Productions later became Pacific, one of the major card makers of the late 80s and 90s. The company was founded by Michael Cramer, who owned a card store in Edmonds, Washington. It took Cramer several years to print the entire set. The last 4 cards were printed on the boxes used to distribute the wax packs, and are scarce.
Although these were mass-produced cards, the numbers issued are miniscule compared with the trillions of cards spewed out by Topps, Donruss, Fleer, and others during that era. Later, in 1988-90, Cramer created a color series of "Pacific Legends" which had a much greater print run, and is therefore less collectible.
It is getting more difficult to find a complete set of these, as collectors begin to realize that they are more valuable than almost anything else produced in the early 80s. They are still available at reasonable prices, making them a bargain for collectors of baseball's golden age.
Complete set (124 cards) in near-mint condition $300.00
1980:
1 Babe Ruth $12.00
2 Heinie Manush $1.50
3 Rabbit Maranville $1.50
4 Earl Averill $1.50
5 Joe DiMaggio $7.50
6 Mickey Mantle $10.00
7 Hank Aaron $7.50
8 Stan Musial $7.50
9 Bill Terry $1.50
10 Sandy Koufax $7.50
11 Ernie Lombardi $1.50
12 Dizzy Dean $5.00
13 Lou Gehrig $7.50
14 Walter Alston $1.50
15a Jackie Robinson Portrait $10.00
15b Jackie Robinson Batting $10.00
16 Jimmie Foxx $3.00
17 Billy Southworth $1.50
18 Honus Wagner $7.50
19 Duke Snider $5.00
20 Rogers Hornsby $3.00
21 Paul Waner $1.50
22 Luke Appling $1.50
23 Billy Herman $1.50
24 Lloyd Waner $1.50
25 Fred Hutchinson $1.50
26 Eddie Collins $3.00
27 Lefty Grove $3.00
28 Chuck Connors $10.00
29 Lefty O'Doul $3.00
30 Hank Greenberg $5.00
1981:
31 Ty Cobb $7.50
32 Enos Slaughter $3.00
33 Ernie Banks $3.00
34 Christy Mathewson $5.00
35 Mel Ott $3.00
36 Pie Traynor $1.50
37 Clark Griffith $1.50
38 Mickey Cochrane $3.00
39 Joe Cronin $1.50
40 Leo Durocher $1.50
41 Frank Baker $1.50
42 Joe Tinker $1.50
43 John McGraw $1.50
44 Bill Dickey $1.50
45 Walter Johnson $5.00
46 Frankie Frisch $3.00
47 Casey Stengel $1.50
48 Willie Mays $6.00
49 Johnny Mize $1.50
50 Roberto Clemente $5.00
51 Burleigh Grimes $1.50
52 Pee Wee Reese $1.50
53 Bob Feller $5.00
54 Brooks Robinson $1.50
55 Sam Crawford $1.50
56 Robin Roberts $1.50
57 Warren Spahn $1.50
58 Joe McCarthy $1.50
59 Jocko Conlan $1.50
60 Satchel Paige $5.00
1982:
61 Ted Williams $6.00
62 George Kelly $1.50
63 Gil Hodges $3.00
64 Jim Bottomley $1.50
65 Al Kaline $3.00
66 Harvey Kuenn $1.50
67 Yogi Berra $3.00
68 Nellie Fox $1.50
69 Harmon Killebrew $3.00
70 Edd Roush $1.50
71 Mordecai Brown $3.00
72 Gabby Hartnett $1.50
73 Early Wynn $1.50
74 Nap Lajoie $1.50
75 Charlie Grimm $1.50
76 Joe Garagiola $1.50
77 Ted Lyons $1.50
78 Mickey Vernon $1.50
79 Lou Boudreau $1.50
80 Al Dark $1.50
81 Ralph Kiner $1.50
82 Phil Rizzuto $3.00
83 Stan Hack $1.50
84 Frank Chance $1.50
85 Ray Schalk $1.50
86 Bill McKechnie $1.50
87 Travis Jackson $1.50
88 Pete Reiser $1.50
89 Carl Hubbell $1.50
90 Roy Campanella $3.00
1983:
91 Cy Young $5.00
92 Kiki Cuyler $1.50
93 Chief Bender $3.00
94 Richie Ashburn $1.50
95 Riggs Stephenson $1.50
96 Minnie Minoso $1.50
97 Hack Wilson $1.50
98 Al Lopez $1.50
99 Willie Keeler $1.50
100 Fred Lindstrom $1.50
101 Roger Maris $5.00
102 Roger Bresnahan $1.50
103 Monty Stratton $1.50
104 Goose Goslin $3.00
105 Earle Combs $1.50
106 Pepper Martin $1.50
107 Joe Jackson $10.00
108 George Sisler $3.00
109 Red Ruffing $1.50
110 Johnny Vander Meer $3.00
111 Herb Pennock $1.50
112 Chuck Klein $1.50
113 Paul Derringer $1.50
114 Addie Joss $1.50
115 Bobby Thomson $1.50
116 Chick Hafey $1.50
117 Lefty Gomez $1.50
118 George Kell $1.50
119 Al Simmons $1.50
120 Bob Lemon $1.50
BOX PANEL CARDS:
121 Hoyt Wilhelm $3.00
122 Arky Vaughan $3.00
123 Frank Robinson $3.00
124 Grover Alexander $3.00
Babe Ruth cut-out, blank back, no number $5.00