Collector score: **** (4  Stars)
Prices reflect value in Near Mint condition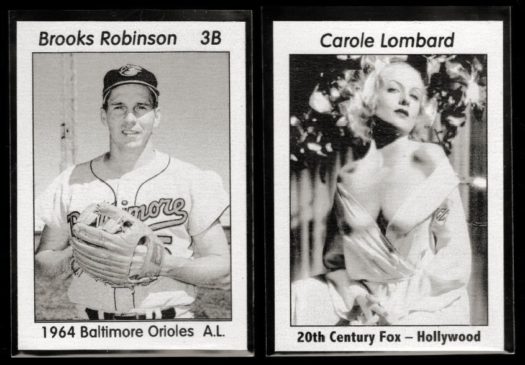 Alta Loma were made for just one year, 1995. Dimensions are 2.5 x 3.5 inches.
The last known tobacco cards ever issued, one card was placed in each package of 4 hand-rolled cigars under the brand name "Alta Loma Premiums" during that year. The company operated during the mid 1990s in Tampa, Florida.
The product was created, packaged, and distributed at a few places locally, but the company was unable to find a national distributor and soon went out of business. The creators thought it was a great gimmick to bring back the cigar card at the height of card collecting. The distributors felt otherwise. They figured that it might cause problems to associate athletes with smoking. A few boxes were apparently sold locally before the project folded, quantity unknown.
Regardless of the questions about their political correctness, by all accounts they are high quality cards. The cards are thick and sturdy, printed on pasteboard with monochrome fronts and spot color on the backs. They are cogently written and seem to have been well researched.
Alta Lomas are all serial-numbered up to #50 – no more than 50 of each card was created. The set includes 500 cards, so the total maximum number of these cards which might exist is 25,000 cards. That's a small issue by any standards.
The subjects are baseball players, actresses, boxers, football players, and other famous personalities. Known cards include: Ty Cobb, Floyd Patterson, Rick Casares, Al Lopez, Babe Ruth, Pete Rose, Willie Mays, Carole Lombard, Brooks Robinson, and Paul Hornung.
Considering that these are probably the last tobacco cards which will ever be issued, and the small number of cards printed, they have collectible value. If the venture had been successful, they might be worth a lot more. Even so, in near-mint condition, they should probably retail for $20 and up for "commons" and more for the big names.